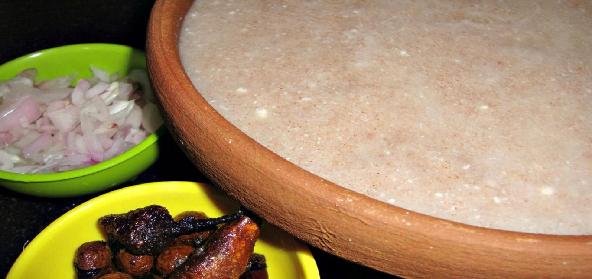 Ingredients:
• 1 cup – Ragi flour
• 1/2 cup – cooked Rice
• Salt to taste
• 1/4 cup – Butter milk/curd
• 1/4 cup – finely chopped Onion
Method:
Mix ragi flour with cooked rice and salt.
Add water to make idli batter consistency.
Mix well so that there are no lumps.
Keep this mixture aside for 3-4 hours for fermentation.
After 3-4 hours, heat the heavy bottomed pan.
Measure the ragi mix and add same amount of water in the pan.
When the water starts boiling add the ragi mixture.
Cook the mixture in the medium flame for about 15 mins – 20 mins. Make sure that you stir continuously to avoid burning.
In 15-20 mins it will become thick batter consistency.
Switch off the flame and close the pan. Keep it overnight for fermentation. It increases nutritional benefits and taste.
For Koozh:
For 1 cup of Koozh, add 3/4 cup of dough and add 1/4 cup of butter milk/curd. If required add water.
Mix well. Serve with Vadaam/Pickle/chopped onion.
Recipe courtesy: Subbu's Kitchen.